Why use Alf?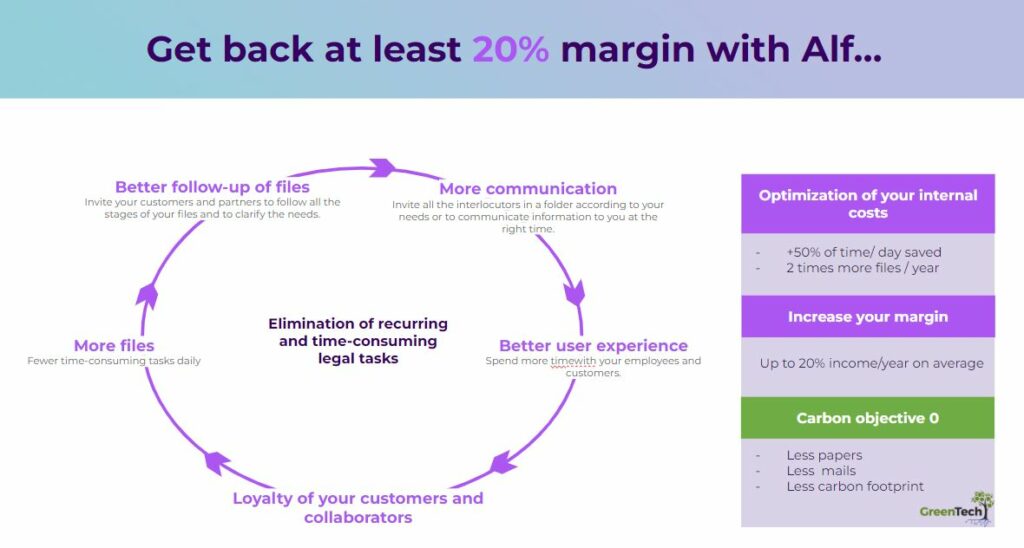 Alf's main mission is to help legal professionals automate their workflows and recurring, time-consuming tasks.
Thanks to a unique turnkey and customizable platform, you can create your own workflows with your own know-how or choose from a hundred customizable templates.
The platform allows you to:
Offer your legal services online
Collaborate with your teams, invite your clients and partners
Monitor the progress of your cases
Analyze your actions and results
From an analytics dashboard, it is possible to monitor and adjust your strategy according to the progress of your teams.
Lawyer for 20 years with international law firms and worldwide companies (Canal+, PwC legal, Nomos, Amazon) I had experienced this observation from the inside: too much useful time wasted to regularly monitor on recurring tasks and time-consuming linked to files, with low added value.
It is to respond to this critical problem that Alf, the first platform for the automation of legal files, was designed and developed.
Customizable, collaborative and accessible in all languages, Alf is also part of a GreenTech approach that encourages responsible innovation by reducing your carbon emissions.

Sabine Zylberbogen
Registered lawyer and Founder
Read more: