The automated platform
for all your legal workflows
Save 50% of your time
without changing your work habits
Your know-how
Your documents
Your identity
Your legal workflows optimized
from A to Z!
All your workflows simplified and automated
according to your know-how
Lawyers
Accounting Auditors
Accountants
Legal Teams
Financial Services
Real Estate
Fiduciaries
Domiciliation
Formalists
Human Ressources
Notary
And more...
Customize
Alf is 100% white label to respect your identity and your know-how.
Automate
+50 features available to compose your workflows according to your work habits and know-how and +15 legal services connected and integrated partnerships.
Share
All your exchanges by files are centralized on a central platform and in every language. (teams, customers or third party partners).
Monitor
Track and analyze the progress of all your files in a clear dashboard.
Entrepreneur first
"We choose Alf to automate, manage and centralize our know-how on a single workspace, where everyone can access and share information with our team."
Solon Avocats
"By creating our own legal platform and digitizing our most common workflows, we have created our own LegalTech dedicated to certain activities of our firm while maintaining our image, our expertise and our know-how."
Experts Entreprendre
"The amount of time we spend listening to our clients has increased since we integrated alf into the team. As an accounting firm, the automation of workflows and procedures saves us a lot of time every day. Repetitive tasks are no longer time consuming."
MalegalTECH
"Alf is a tool, a platform and a dashboard that has become like an integral member of the team. Autonomous, intelligent and automated, it has allowed us to offer new services for our clients and to respond faster to certain needs."
Verico France
"Alf's platform allowed us to scale VAT incorporation in France of our Chinese clients quickly and smoothly. We were happy to leverage their tax expertise and they liaised with the tax administration allowing us to save legal costs and a lot of time."
Improve your client's experience
Drive your firm to the next level
Improve clients retention
Propose new online services
Improve your attractiveness and find new talents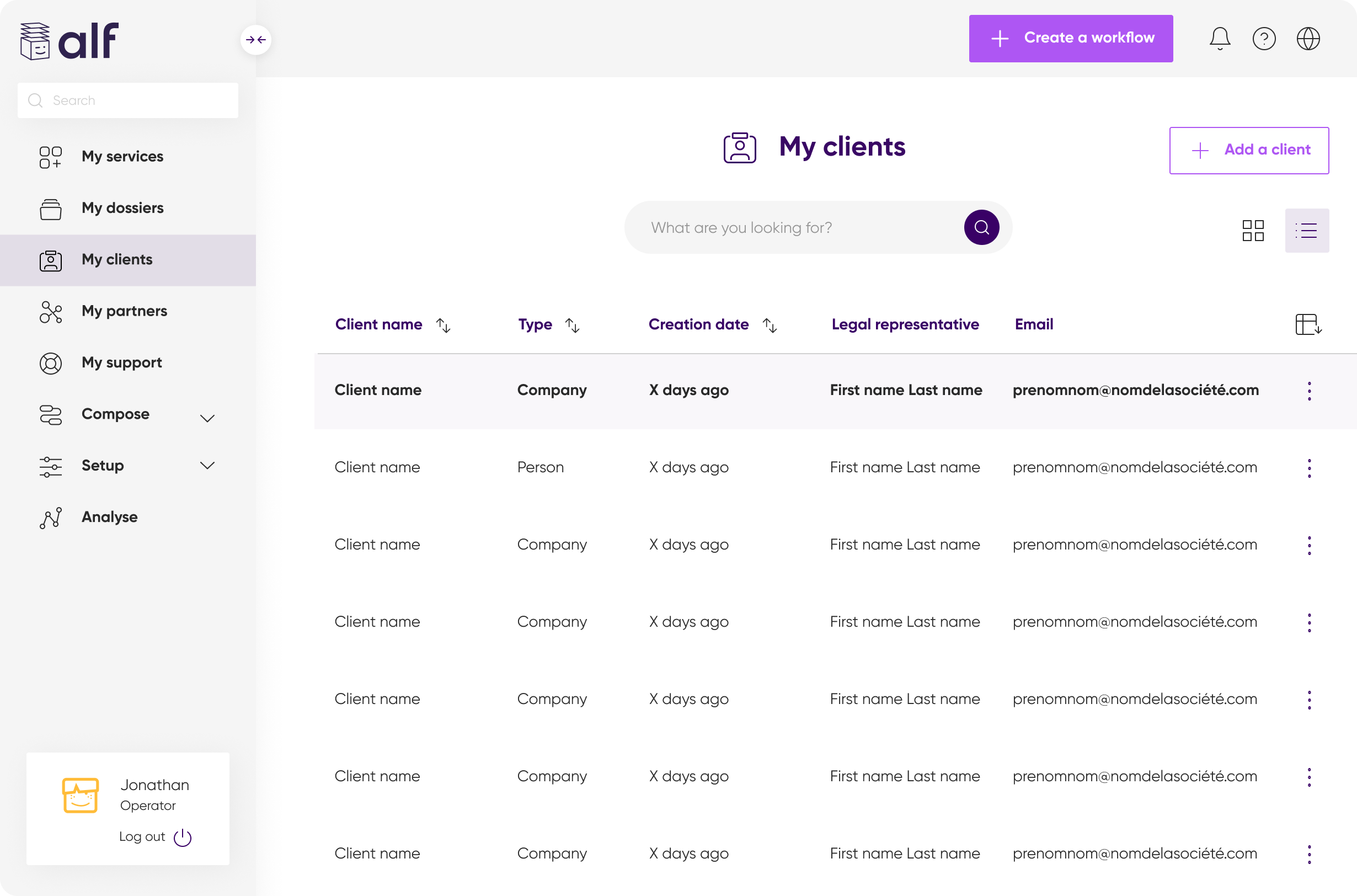 Enhance team work efficiency
Manage frictionless files
Reduced time for internal research

Secure files filed with authorities

Share transparency and real time tasks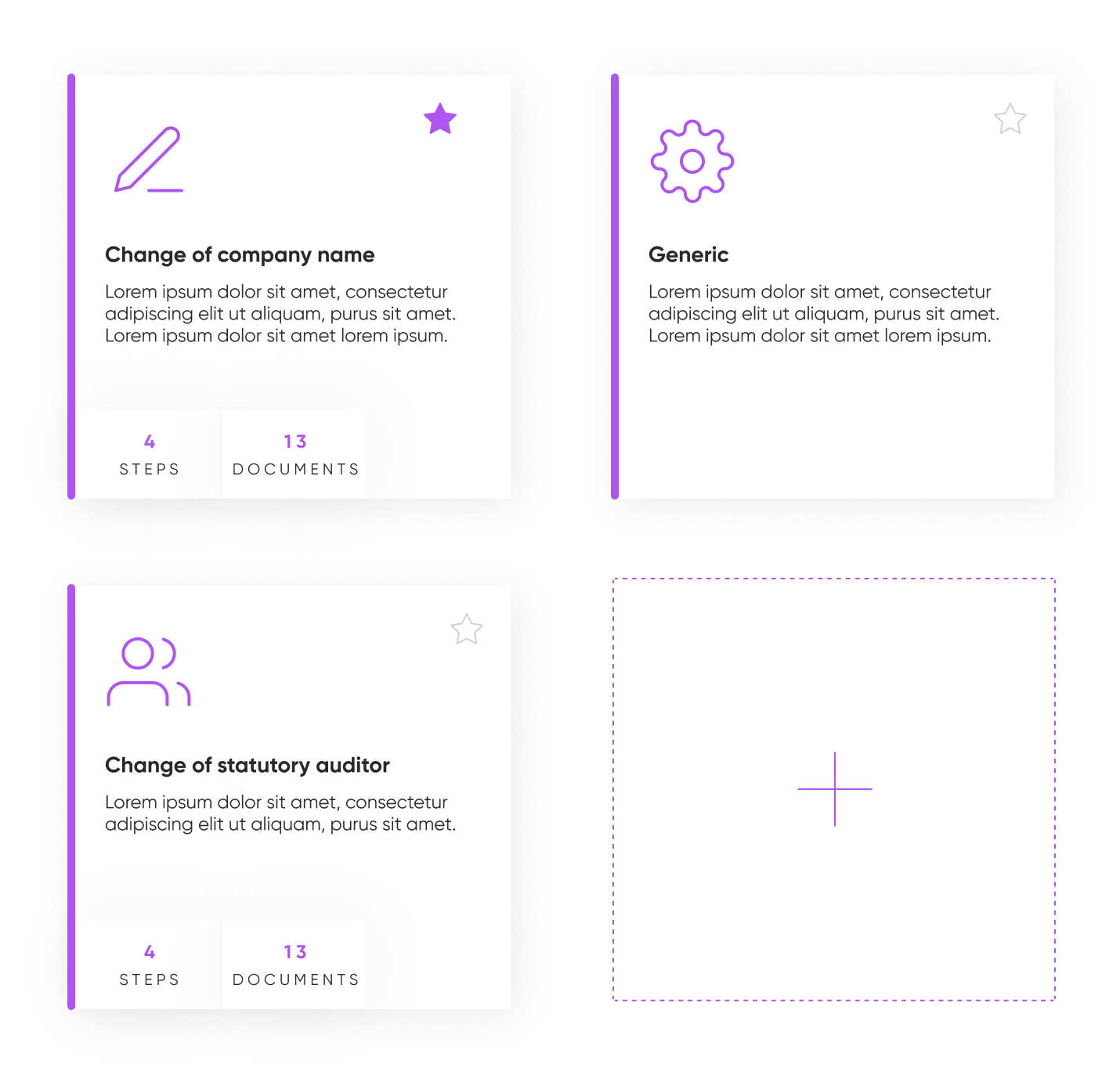 Save time...and money
Boost your added value through business automation
Less time spent on drafting documents

Less time spent on documents validation

Fewer redundant phone and emails contacts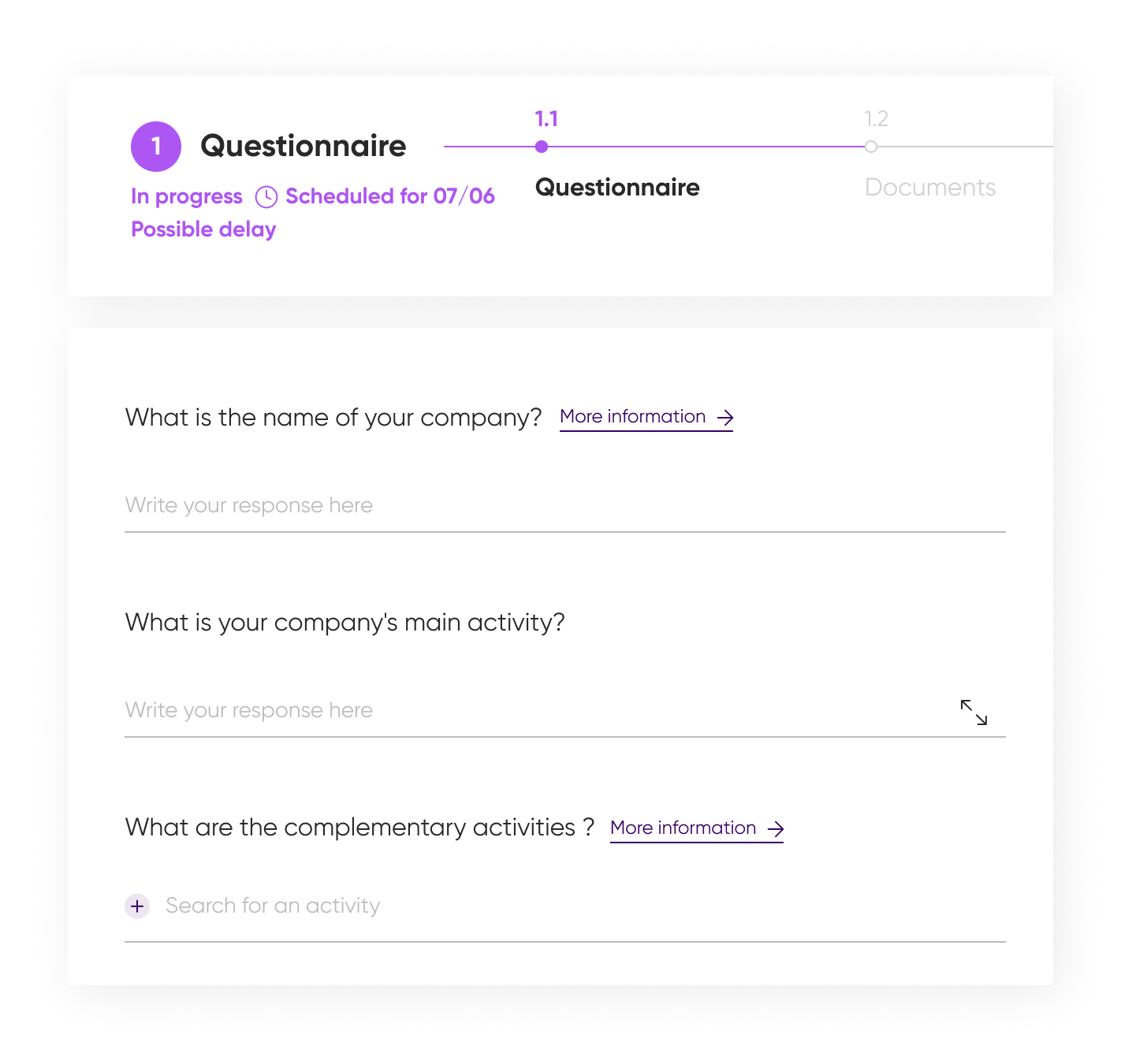 Bye bye useless costs
Skip consulting costs and IT developments
Save project management and IT development costs
Get rid of LegalTech consulting costs
Reduce time spent to train your teams (NO CODE platform)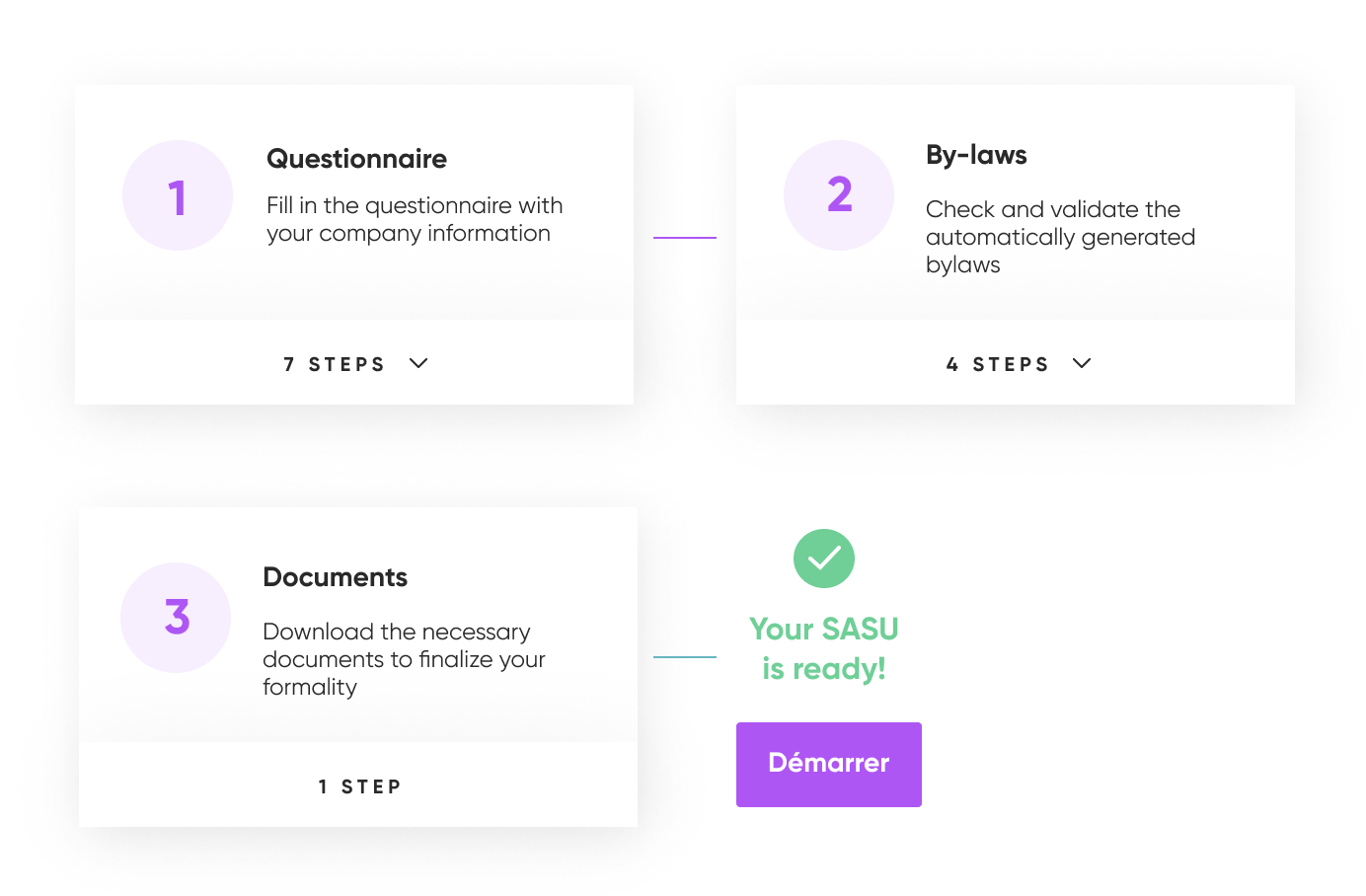 Get rid of
time-consuming tasks!
Alf, built for innovative legal teams.
Endless inquiries
Stop entering the same information several times. Generate your contracts without re-entering information with Alf.
Multiple reminders
Stop chasing after stakeholders to manage recurring litigations and go on vacation.
Chase after validators
Organize and follow your internal validation procedures without having to send emails to your contacts. Alf does it for you and reduces your carbon footprint at the same time.
Internal practices not respected
Eliminate the time spent writing internal procedure manuals that nobody reads. Alf allows you to automate and update them with just a few clicks.
Too many screens and interfaces
Stop working on 5 screens and 7 different tools to keep track of your legal files. Alf is the all-in-one platform for lawyers.
Time-consuming paperwork
Get rid of time-consuming tasks and recurring paperwork for your teams. Alf frees your teams from this unnecessary mental burden.
Deadlines missed
Reduce the risks of legal delays and reassure your hierarchy or your accountant. Never miss a deadline again thanks to Alf.
Obsolete information
Never again check 10 times the information in a file. With Alf your information is always up to date!
Time-consuming interlocutor coordination
Stop sending emails to establish connections between your clients and your business partners. Alf makes them accessible directly from your platform.
Chaotic archiving
Say no to multiple document storage and centralize all files in one secure space. Eliminate obsolete and unnecessary copies. With Alf's carbon neutral goal.
Loss of appeal
Don't miss out on a business opportunity or a rockstar for your team. Embrace Alf and boost your firm with responsible innovation.