State of play of automation among accountants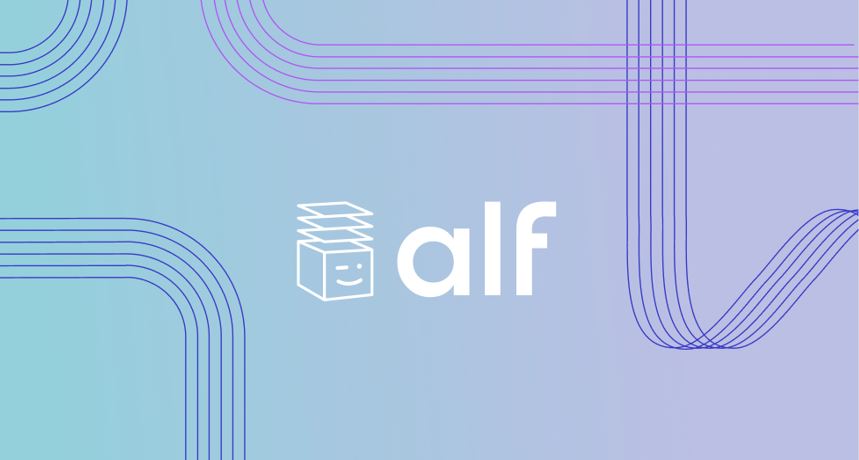 The crisis of the COVID has profoundly changed the world of work and the accountancy sector has not escaped it. Whether as a constraint for some or an opportunity for others, the 21,000 or so accountancy firms operating in France have had to accelerate their digital transition in order to cope with the crisis. The numerous exceptional measures taken by the State for businesses (tax rebates, tax debt payment deadlines, participatory loans, State-guaranteed loans, etc.) have also refocused the role of the chartered accountant on his advisory function.
Persistent fears among accountants and their clients
The accounts of a company require both rigour and precision. Automation makes it possible to considerably limit the errors that a professional – however experienced – could make.
Among accountants
As far as accountants are concerned, although they have already been using tools for automating accounting documentation for several decades, they are very reluctant to automate the generation of the related legal documentation.
Questions about these tools therefore mainly concern the performance of the tool chosen, its ease of use in order to limit the time spent on training, its flexibility in terms of the subjects to be processed, its security, etc.
While a majority – 64% – of firms have already put in place a strategy for their digital transition, there are still 26% of firms that are still considering this transition. Only a minority are really reluctant to implement a digital transition. Amongst these 64%, it can be seen that managing the new digital challenges requires specific skills: either through new profiles or through the use of external specialist firms.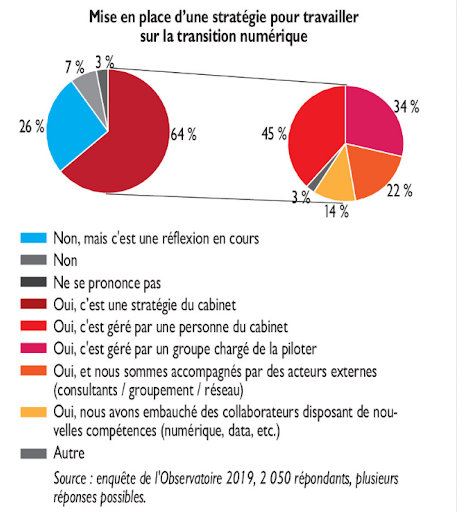 With customers
On the client side, fears are mainly centred on the fear of losing a quality relationship with their accountant, to the benefit of a tool that would be a challenge to master.
However, automation offers real opportunities for the profession. The Ordre des experts-comptables did not wait for the crisis to seize this new challenge by launching an awareness-raising and support project in 2016 called "Cap sur le numérique".
The automation of a certain number of the accountant's usual tasks naturally leads to a shift in his function. Until now, the accountant's time was divided between operational and more strategic considerations.
The chartered accountant can now devote more of his time to advising his clients and to high value-added missions. Although the process of getting used to the chosen tool requires a moment of adaptation, in the long term the time saved is considerable. As the recent study by the Observatoire des Métiers de l'Expertise-Comptable shows, the automation of accounting and social production represents "a transformation of professions rather than a threat to the volume of jobs in the sector". While it is true that the exponential automation of procédures comptables aurait légèrement limité la croissance de l'emploi ces dernières années, l'effet est largement compensé par la croissance économique, l'externalisation des activités comptables ainsi que les créations d'entreprises.
Making cumbersome procedures more fluid thanks to databases
Another advantage – and not the least – is that it allows all data to be centralised on a single platform. Digitalisation also makes it possible to streamline cumbersome procedures, even though the volume of data to be processed is exponential.
The recent study of "automatable" tasks for the different areas of activity of OMECA's chartered accountants (see graph below) confirms the advantages of databases. It shows that the tasks most suited to automation are those related to operations, i.e. data processing (collection from clients and banks, bookkeeping, documentation, etc.)…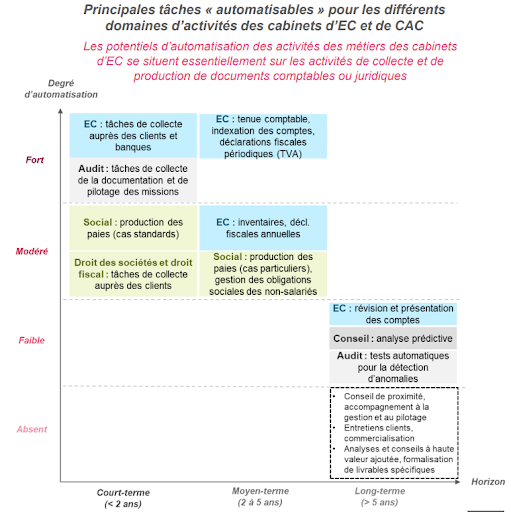 Constance Camilleri, Director of Innovation at the Conseil Supérieur de l'Ordre des Experts-Comptables, stresses that "data appears to be a formidable lever for optimisation for chartered accountants, who manage the data of the French economy on a daily basis and have to respond to the new needs for reliable information from clients".
Enrichment of the services offered to customers
The use of digital technology enables accounting firms to enhance their analysis tools and the services they offer their clients.
Automation technologies combined with other technologies – data visualization tools, cloud, database exploitation software – make it possible to offer solutions to support the management and steering of the company. For example, the use of "dashboard" style platforms allows company managers to keep a close eye on their situation and all their accounts whenever they wish. They do not have to wait for a dedicated appointment with their accountant.
Thus, automation is far from being a threat and represents on the contrary an opportunity that accountants are increasingly encouraged to seize.
Automation: an inevitable transformation for the future of accounting firms
Recent legal requirements for digitisation
Similarly, Mounir Mahjoubi – former Secretary of State for the Digital Economy – goes even further when he considers that "chartered accountants are the best placed to guide VSEs and SMEs in their digital transition".
Three adaptation issues emerge from a 2021 study on the mutation of professions and skills in the accountancy sector carried out by OMECA, with the automation of processes as the main focus:
continue to move upmarket and diversify services: (almost) free of operational tasks, accountants can make the most of their advisory expertise
strengthening the digitalisation and specialisation of production methods: to remain competitive, law firms must gradually begin their digital transformation
Develop more assertive commercial practices: the customer relationship, far from being weakened by automation, is strengthened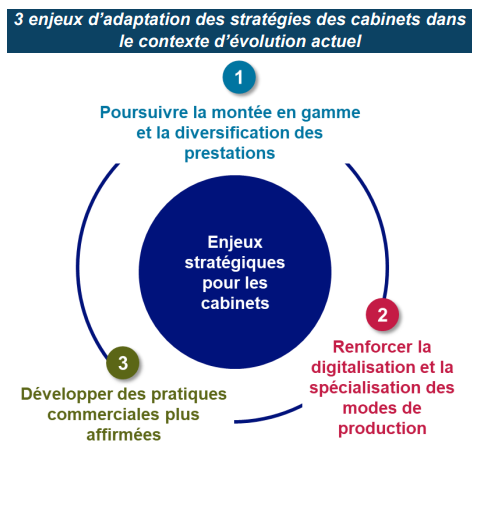 The accountant is required not only to use automation to make his daily work easier, but also to become a real leader for the companies he advises in their own digital transition. A typical example of this trend towards automation is electronic invoicing. This will gradually become a legal obligation for all companies. From 1 July 2024, companies will have to be able to receive invoices in electronic format.
Find HERE the advice of the Ordre des experts-comptables to succeed in your first steps towards the automation of the profession and the support to companies
The emergence of new profiles of digital-oriented accountants
Recruiters are increasingly appreciative of varied backgrounds, with new profiles that are highly oriented towards contemporary digital issues. Engineering and data scientist profiles are highly valued.
At the same time, firms are reviewing their internal training programmes and more and more of them, such as Mazars, are offering training to their staff on the robotisation of the accountant's tools.
Cybersecurity challenges for law firms
The benefits of automation are not without risks. The security of a firm's client data and information is now a major issue.
Most often, firms are subject to traditional attacks through suspicious emails but many other types of attacks exist; malware, ransomware, phishing to name but a few…
In a recent survey by the Observatory, to which 1,900 firms responded, it appears that although cybercrime is a reality with which more than half of the accountants have been confronted, a significant percentage of them – 26% – are not aware of its consequences. There is a real need to train firms on the challenges of cybercrime.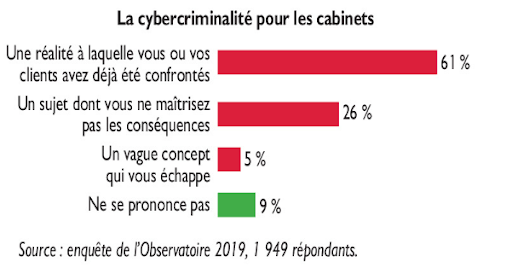 Alf, a complete solution to cope with
At Alf, we wanted to create a secure, multilingual interface that allows you to integrate multiple services and automate your processes without all the complexities of IT development. It's a Saas solution that therefore requires NO specific training in the tool!
Do you have a question? Our experts are there to help you. Alf is a platform created by experts in the sector for accountants.
Our promise :
Cost savings
Less legal risk
Securing files filed with the authorities
Elimination of IT development costs
70% time saving
Reduction in drafting time
Reduction in validation time
Less redundant telephone and email contact
Efficient team
Reduction in internal research time
Knowledge sharing
Efficiency in closing files
Satisfied clients
Transparency in the follow-up of cases
Response to new client needs
Long-term client loyalty